Dazzle audiences with your public speaking.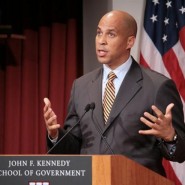 Fifty-four years ago today, President Harry S Truman delivered the first televised Presidential address from the White House, asking Americans to limit their grain consumption to support famine relief in post-World War II Europe. At the time, U.S. homes with television sets numbered only in the thousands, but as History.com reports, Truman's speech "signaled the start of a powerful and complex relationship between the White House and a medium that would have an enormous impact on the American presidency, from how candidates campaigned for the office to how presidents communicated with their constituents."
Even if you're not the President, and your next speech won't be broadcast, remember that every public speaking engagement is a powerful opportunity to deliver your message, engage supporters, and build personal and professional credibility. Forbes magazine recently published helpful tips for "How to Give a Great Speech," including pointers about both content and presentation. Also check out Nick Morgan's blog for great public speaking advice.
The most important step is to do your homework. Learn as much as you can about the people sitting in front of you, and find ways throughout your remarks to address them directly. Demonstrate that you know and understand where they are coming from. Single out individuals you know personally. Be charming and funny, humble but authoritative.
Need inspiration? Take an hour to watch Newark Mayor Cory Booker's remarkable address to the American Constitution Society. Great words on the page, combined with charismatic delivery, result in a memorable speech that challenges, informs and inspires.